Looking for Steampunk Fans (reblogged) Read it now. 🙂
Dancing With Fireflies -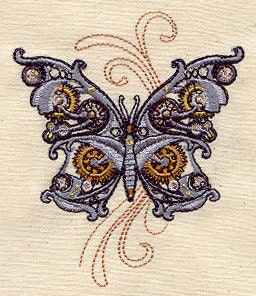 I love all  things Steampunk and I love how it has come forward from the dark corners of the internet to mainstream fashion. I know that Steampunk has been here a while, but for a long time it was
held by those who the fans of science fiction, fantasy and alternate history during the 1980s and early 1990s. But it didn't die off with Max
Hedrom or other pop culture fads of the 80's and 90's.. in fact, I think it's grown in fashion and gathered.. steam.
Rising to the top of our search list like a fantastic Airship, Steampunk searches have come right under Zombies at my shop – Morning Tempest Studios.
And we are working hard to keep up with our fan requests and bringing more Steampunk embroidery to the younger generations as soon as we reopen this fall.
The style of the 19th century and fantasy…
View original post 169 more words